Welcome, may we contact you? CLICK HERE to submit your information - Thank You!
Wyoming Governor Mark Gordon's Orders/Directives
Update: 08-01-2021
Please click the graphic to find information on church reopening procedures.
Watch us on Facebook LIVE on Sunday's at 10:45am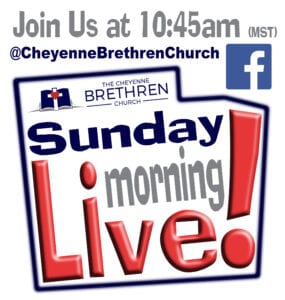 Want to see past Sunday Sermons?
Personal Spiritual Growth Tools
To help you grow in your Spiritual Faith, we have a few personal development resources you can download and help with your devotions, prayer concerns, and knowing how to pray.
The Cheyenne Brethren Church is a vibrant active community of believers dedicated to celebrating new life in Jesus Christ, and empowering His followers to be mature disciples.  We invite you to take a few minutes and discover the many facets of our ministry in the community of Cheyenne.  You will hopefully discover a church dedicated to getting people connected.  Connected to one another and most importnantly, connected to God through the power of His Spirit and the redemptive mission of His son Jesus.
Got questions, click the link and leave us an email.Continue Reading…
Events for week of January 24, 2022
This Week Navigation
January 25 @ 7:00 pm
-
8:15 pm
January 26 @ 6:30 pm
-
8:00 pm
January 26 @ 6:30 pm
-
8:00 pm
January 27 @ 6:00 pm
-
7:30 pm
January 27 @ 6:30 pm
-
8:00 pm
January 30 @ 9:00 am
-
10:30 am


2600 E 12th St
Cheyenne, WY 82001